"BUILD-TO-RENT"
THE MOST REVOLUTIONARY ASSET CLASS SEEN IN AUSTRALIAN REAL ESTATE FOR DECADES
Set to change forever Australian property investing and housing
BUILD TO RENT SUMMARY
The growing global real estate phenomenon Build to Rent is creating unprecedented worldwide interest with private real estate funds, developers, industry superannuation funds, global Sovereign Funds, and Sovereign Pension Funds all declaring their interest in the new housing asset class.
Build to Rent (BTR) has been a hot topic in global real estate circles for the last few years.
In the UK an increasing number of projects have come to market in recent years so the UK Build to Rent is no longer restricted to industry insiders.
Many tenants are now living in these buildings, and the entire asset class is starting to become the focus of the real estate industry. Build to Rent tenants appear to come in a variety of demographics.
According to The Times, university leavers and young professionals are being joined by older "tactical renters" who choose to rent for a variety of reasons.
Build to Rent may be a growing global phenomenon but it's still very new in Australia.
The BTR concept was first thrust into the spotlight as a part of the 2019 federal election campaign when Labour proposed taxation reforms for Build to Rent in Australia.
Since then, Build to Rent has started to become more reported in mainstream media in Australia.
BTR is opposed to the common build-to-sell method, where a developer builds a residential development and sells the apartments to individuals to either live in or rent out as an investment.
Build to Rent is part of a growing institutionalised housing market and is particularly attractive for institutions, both local, international and sovereign funds that want reliable, steady income as well as exposure to the Australian residential property market.
Opportunities for sophisticated private investors (or family office type investors) are more limited, and tend to be restricted to investing in property funds.
Investors wanting double-digit annual returns and/or "windfall" type gains would be well advised to try to get in - quickly and early - on the ground floor with private developers looking to enter this market.
Mostly minimum investment amounts in Australia would be around the A$300K-$500K region.
Q: How do Build to Rent (BTR) developments differ from Build To Sell?(BTS)
A: Naturally, in order to appeal to a specific section of the property market (i.e. those who wish to rent rather than buy), developers are custom designing BTR sites to suit prospective renter's lifestyles. Obviously, the properties themselves need to meet modern standards of living, and plenty actually exceed expectations if you're willing and able to pay the rent they command, but BTR developments in many areas are going one step further than merely designing fantastic apartments.
Developers are now creating, or at least trying to create, mini communities within their developments by including features such as communal areas where people can hang out and socialise together. Such features include the obvious and not-so obvious, from gyms to lounges and games rooms to dining spaces. In fact, many BTR developments are actually closer to hotels than homes.
Tenants will even have their own concierge in some! And the latest technology. And cleaning and laundry services.
Build-to-Rent aims to take the best aspects of Single Family Residences and apartments, and upgrades the experience by developing all properties inside a professionally managed community.
They are much more akin to traditional, gated residential neighborhoods with great community amenities and professional management without burdening residents with Rates and Charges, Body Corporate Fees, Land Taxes and repairs. Or servicing mortgage debt.
Q: How important is location for Build To Rent?
A: "As with any housing project, location is vitally important. And, as build to rent is a service-driven housing solution, the audience for the scheme is crucial.
BTR can offer housing in connected locations that would otherwise be unaffordable to commuters, but the location needs to be right to support the density and sustain the community.
Due to the financial firepower behind BTR, developers have been able to unlock high-value sites in urban areas that for-sale developers would have struggled with"

(Russell Pedley, co-founder and director of award-winning BTR market leader Assael Architecture, and co-author of the Urban Land Institute's Build to Rent: A Best Practice Guide, UK, sponsored by the UK Government)
Q: What is your philosophy about providing amenities for residents?
A: "Shift some the amenity space from private to shared use. There are primary shared amenities that every BTR project should have (mail delivery, lounge area, back of house for storage, loading bay for move in and move out, refuse collection facilities) and there are secondary amenities to reflect the brand. Since BTR buildings are typically institutionally backed and owner-operated, the building has to perform as an asset for both the investors and residents.
This means that facilities such as gyms and swimming pools must be continuously assessed both in terms of what they add to the community and their operational costs. Fostering a sense of community within a BTR development is essential, as it leads to higher retention rates that contribute positively to the financial performance of the development. When people love where and who they live next to, they stick around!" (Russell Pedley)

Experts predict a build-to-rent (BTR) revolution coming to Australia
"

It's well-established overseas but, in Australia, it's a new form of housing and there's a lot of excitement around it.

"
Adam Hirst, general manager capital allocation at developers Mirvac
Q:
Does BTR offer any opportunities to the individual investor, or is it solely to the benefit of institutional investors?
A: "BTR means a single owner operating all units in the building, so it's difficult to see how the individual investor can participate in this business model, other than indirectly through collective investment funds that target this sector.
Aside from funds, the closest proxy is probably the Property Investment Club model in the UK where individual investors buy units in a building that is collectively leased and managed for rental on behalf of all owners.
Unfortunately, this sector has something of a murky past where high returns were promised but not met, which left some small investors unable to service buy-to-let mortgages from rental yields.
Perhaps better providers coming into this space in future would a good way for small investors to compete and benefit from the growth of the BTR model."
(Jonathan Gains, former director of UK real estate business LIV Group who helped to create a new operating model for Build to Rent (BTR), including the development of a proprietary mobile app platform to deliver resident services)
To invest in Build to Rent property, there are only a limited number of opportunities for individual investors to go down.
Most Build to Rent projects are held for rental income by developers or funds.

So in saying that you can invest in shares of a BTR developer. Some investors have made the mistake of investing themselves in student housing or buying serviced apartments, thinking this perhaps was Build to Rent.
Far from it! These investments have mostly been very unsuccessful for individuals in terms of capital growth, although very lucrative for developers.
Build to Rent investors opportunities are generally only open to accredited investors, in joint venture or syndications with private property developers.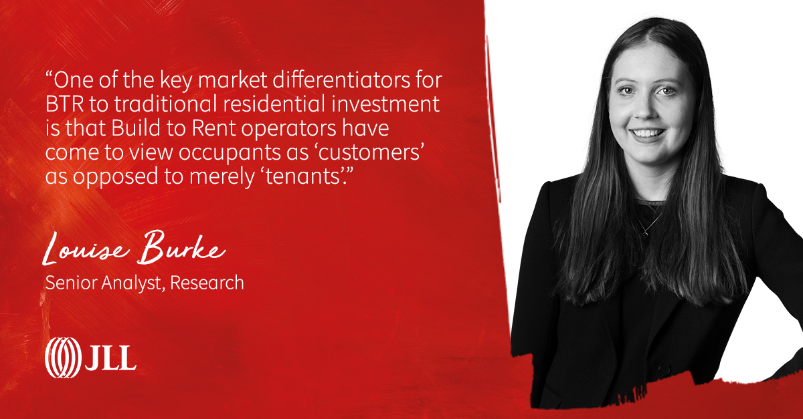 JLL MAY 21, 2020 :
5 STRATEGIC PLAYS TO REPOSITION YOUR REAL ESTATE PORTFOLIO
"Going defensive - Defensive assets will become a higher priority as reopening intensifies regionally. Logistics, education, multi-family, build to rent, and data centres have emerged as focus points for investors recently.
Over US$6bn in capital has been committed to logistics and data centre JVs over the past 60 days. We believe this is a sign of activity to come."
GUIDELINES TO ACCREDITED INVESTORS:
HONG KONG: PROFESSIONAL INVESTOR:
Total portfolio size at the date of investing: HK$8M
(including property net after mortgages)
SINGAPORE: ACCREDITED INVESTOR:
Income last 12 months of SG$300K
or net financial assets of S$1M
or Net personal assets (value of primary residence not exceeding 50%) of SG$2M
AUSTRALIA: WHOLESALE CLIENT:
Income last two years of AU$250K for each year or net assets of AU$2.5M
or gross assets of AU$10M(Have or control)
or assessed by a licensee as having previous experience in using financial services and investing in financial products