ARE AUSTRALIA'S APARTMENT PRICES AFFORDABLE ON A WORLD SCALE?
(Note figures are expressed in USD, so currency fluctuations can also affect the ranking)
The Global Property Guide (GPG) regularly produces the rankings of the world's most expensive cities to buy real estate, based on their extensive research.
Citylife International Realty updates the figures yearly to include the other Australian cities not included by the GPG. These figures are updated yearly, but on different dates, so may not reflect the exact market as at the date shown in the chart.
(Other data by CBRE below)

Figures are typically based on the average selling price for a 120 square metre apartment (in most locations). The apartments are typically in a prime inner city area and do not reflect new build projects, as they may be significantly more expensive.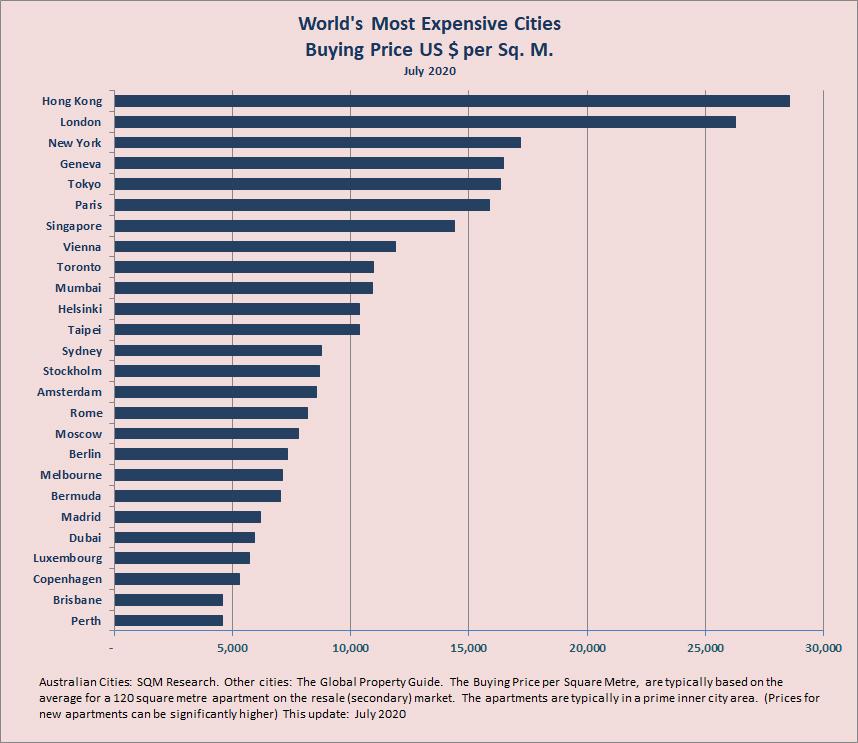 AS CAN BE SEEN ABOVE, EVEN SYDNEY, AUSTRALIA'S MOST EXPENSIVE CITY, RANKS AROUND THE MIDDLE.
MELBOURNE IS IN THE BOTTOM THIRD, BRISBANE AND PERTH RANK AMONG THE WORLD'S MOST AFFORDABLE.
Five of the top 10 most expensive places to buy a property are in Asia, according to CBRE's latest Global Living Report 2020.
Hong Kong, 8 June, 2020: Hong Kong remains the most expensive place to purchase a property, while other Asian cities on the top 10 list are Singapore (#3), Shanghai (#4), Shenzhen (#5) and Beijing (#6). New York and Lisbon have respectively won the top spot on the highest monthly rent and the highest annual rental growth.

In the sixth annual Global Living report, CBRE profiled the residential market performance of 39 global cities, along with insights into what makes living in these cities particularly desirable.
Of the 39 cities analyzed, house prices in 31 cities continued to grow. However, the average growth rate was around half of that in 2018 and this lower growth in part reflects cooling measures introduced by some governments to improve affordability for local residents..


What are the sources of GPG's price and rents data?
The GPG draw it's figures from their own, in-house research, based on a simple yet effective method - they systematically scan web advertisements for residential property, looking at offers for sale, and offers for rent, of good (but not new) apartments.
They begin by defining key upper-end rental districts in a country's premier city, then carefully select appropriate price ranges, taking average prices, rejecting deviant outliers.